The Local Government Unit of Piñan is greatly honored to have been awarded for the Seal of Good Local Governance for being an awardee, the Municipality of Piñan had became a recipient of the 2016 Performance Challenge Fund in the amount of Three Million Pesos ( 3,000,000,00) after having passed all the minimum parameters of the core components, namely: Financial Administration, Social Protection and Disaster Preparedness and also met the three essentials areas; 1.) Business Friendliness and Competitiveness; 2.) Peace and Order; and 3.) Environmental Management.
This Performance Challenge Fund Incentive is being proposed for the construction of new Public Market in the Municipality.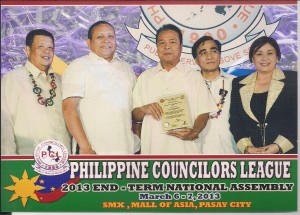 Congratulations to Vice-Mayor Ignacio L. Galan and the Sangguniang Bayan Members (2010-2013) for emerging as National Winner for the 2012 Local Legislative Award! The awarding ceremony was held on March 7, 2013 @ SM Mall of Asia. We would also take this opportunity to congratulate the lady behind all these, the Secretary of the Sangguniang Bayan, Ms. Maria Celeste "Mayette" Balbosa-Canoy and to all her staff for a job well-done. Likewise, we also extend our warmest congratulations to the Honorable Mayor Jose I. Belleno, to the Heads of Offices, and to all local employees including the Job Orders who contributed much in the conduct of the previous evaluations. Keep it up!

At Piñan you are always welcome!
Come and explore one of the Philippines' most promising municipality, Piñan, where you can experience the wonders of nature and bask in the warmth of its townspeople.
Situated in northwest Zamboanga del Norte, Piñan is blessed with a fertile soil and even rainfall, which support a thriving agricultural sector. The town is known for its high-value crops and vegetables.
Piñan is also bestowed with natural wonders such as Boboringan Hills—which overlooks the neighboring city of Dipolog—and the pristine waters of Luzvilla Falls in Barangay Luzvilla.
Visit and experience the rustic beauty of Piñan. Be charmed by its people and culture. Invest and harness the town's potentials in tourism and agriculture.
Tourism is increasingly important to the world. Spending of tourists could contribute to economies of places. Nowadays, most people are involved in jobs that provide tourist services. The fact is Tourism help build good communities and humanities. Though not basically for money sake, Piñan is advocating Tourism like it is a need to be one in the world.
As everyone does, the Municipality of Piñan is enthusiastically getting along with what is supposed to be the trend. With its available resources and capacities, it is investing to Tourism as well. Apparently, its Festivities are to pull people and for the place to be identified as a moving community and not just a naive one. We intend to preserve our Landmarks as well as our Natural Spots just so that we are proud of our town and thus it should not be left behind. Our pleasure is for people from anywhere on earth to get to know our humble community.
We will keep moving on towards betterment, and we are poking everyone to see our beautiful and peaceful town!